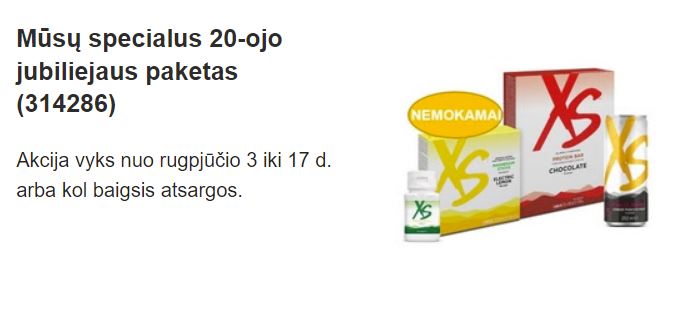 Our celebrations for 20th birthday of the XS brand continue, with the limited-edition XS™ 20th Anniversary Solution Bundle!
A carefully selected combination of products designed to support the body during sporting activities from start to finish, this celebration bundles comes with XS Magnesium Sticks for FREE!
The limited-edition XS™ 20th Anniversary Solution Bundle comes packed with the following high-quality products:
• BEFORE: XS Rhodiola Plus* Prepares for your pre-workout and give yourself that extra edge and mental focus.
• DURING: XS Magnesium Sticks (FREE BONUS!) Supports your muscles and help reduce tiredness.
• AFTER: XS Protein Bars** Supports post- workout recovery and snacking needs.
• AFTERNOON SNACK: XS Power Drink*** + is the perfect pick-me-up to battle that afternoon slump. Vitamin C has been shown to boost energy + maintain immune defences.
This strictly limited-edition bundle will be available August 3rd to 17th only – order early to avoid disappointment!
* XS Rhodiola Plus – a high-impact tablet containing 4 naturally derived plant concentrates plus Vitamin C. Rhodiola grows in the wilderness of the Siberian Arctic, where farmers sustainably harvest it to deliver Nutrilite approved rhodiola.
It is the great low-calorie daily food supplement, made with Nutrilite approved rhodiola, grown in the Siberian Arctic. Each tablet is packed with 30 mg of Vitamin C, to support normal energy-yielding metabolism and psychological function. Green tea extract delivers a 75 mg boost of natural caffeine. One simple food supplement, a long list of benefits! All that without any artificial flavours, colours or added preservatives.
** XS™ Protein Bars delivers lean muscle growth & maintenance in a convenient on the go format.
Making the most of my active life means choosing supplements that go the extra mile. XS Protein Bar is all about giving your body what it needs to reach its full potential, exactly when it needs it. These new XS Protein Bars have been designed to support lean muscle growth following exercise in a convenient, on-the-go format. Each protein bar contains a targeted protein blend, providing a steady stream of fast & slow-releasing proteins – supporting protein synthesis for longer. Enriched with Selenium, which contributes to the protection of cells from oxidative stress these advanced Protein Bars are always on-hand when you need a performance support!
*** Experience more from your power drink, with built -in immunity support for your fast-paced lifestyle. Each sip delivers a kick of ginger, and a burst of passionfruit flavour, in our low calorie, sugar –free formula.
Multi action product with nutrients that combat tiredness + maintain immune defenses. Powered by caffeine and rich in 4 B Vitamins* that contribute to a reduction in fatigue. With Vitamin B5 to support mental agility and alertness. Nurtures your body's natural immune defenses with vitamin C and zinc combined with acerola cherry and rosehip.
Only 5 calories per can. Natural flavouring and free from artificial colouring. Moderately carbonated, with 80 mg of caffeine per can