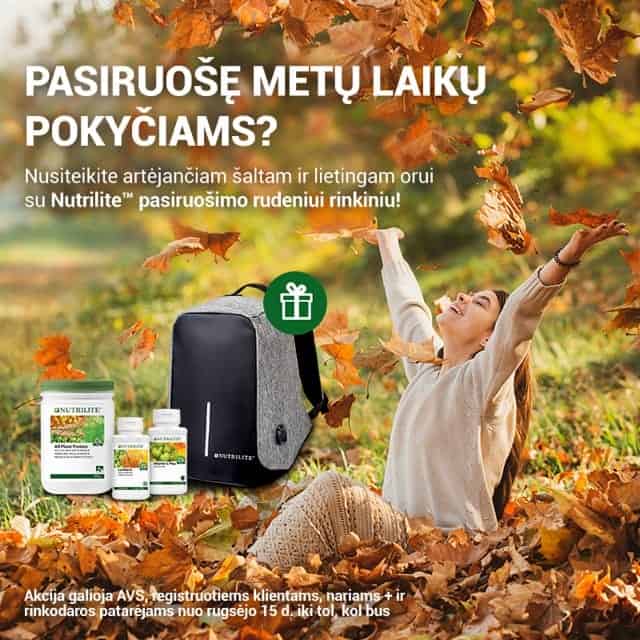 Strengthen your body for autumn
With the arrival of the cold season, we will be more exposed to air pollution and external factors. You need to strengthen your body for autumn. Strengthen your body and prepare for the autumn. Make sure you always have the essential nutrients your body needs with the Nutrilite™ and strengthen your body. Meet autumn healthy and stronger – prepare your body for the cooling weather.
Buy the Set for Autumn Bundle (Order No. 310834) and we'll give you a Nutrilite anti-theft backpack. FREE!
The set of autumn nutritional supplements (310834) consists of the highest quality vitamins and nutritional supplements necessary for your body in autumn:
1

Nutrilite™ All Plant Protein

. Nutrilite All Plant Protein contains a balanced combination of proteins from three plant sources, grain (wheat isolate), legume (soy isolate) and vegetable (pea isolate) which provides all nine essential amino acids. It is a complete source of protein as it has a total amino acid score that matches WHO standards.
1

Nutrilite™ Vitamin C Plus

(180 tablets).Nutrilite™ Vitamin C Plus is a highly effective food supplement that delivers a slow and steady release of Vitamin C throughout the day to support your normal immune function.  Vitamin C is an essential nutrient that supports the immune system. In addition to providing such invaluable support to your immune system, Vitamin C helps to maintain the body's normal collagen production for healthy skin and help to protect cells from oxidative stress (thanks to its antioxidant properties).
1

Nutrilite™ Lecithin E.

Nutrilite Lecithin E is a food supplement with vitamin E and lecithin. This product is an excellent combination of vitamin E (of naturally derived origin) and lecithin. These pleasant-tasting chewable tablets are sweetened with honey and flavoured with carob. Vitamin E is an antioxidant which contributes to the protection of cells from oxidative stress, while lecithin is a naturally derived emulsifier of fatty substances.
Enjoy on-the-go convenience with a stylish and practical backpack, designed to keep your valuables safe and your phone charged. It has hidden dual-access zips and includes a USB port with charging cable, ensuring you feel secure while on the move. It's everything you need to make your busy day an easy day!
Take advantage of this offer while you can – available from today 15th September, while stocks last!
Promotion terms:
No limitation on the number of orders.
No limitation on the number of bundles that can be purchased per order.
Promotion can be combined with first order discount and any other promos.
Proteins are the body's building blocks – they are the frames for muscles and bones. Since the body does not store excess protein, a daily consumption of protein is crucial for keeping them strong and healthy. We need proteins to fuel our body's ongoing essential processes. They are required for the structure, function, and maintenance of our cells and organs.
How does it work
On an average, a person who weighs around 60 kg needs approximately 50 g of protein per day. A lot of people look to animal products as their main source of protein. Some animal foods are high in protein, yet may bring some unwanted extras with them like cholesterol, saturated fats, excess calories and salt. If you wish to avoid or cut back on these unwanted extras, you should consider supplementing your diet with Nutrilite All Plant Protein powder.
Vegans and vegetarians get most of their proteins from vegetable sources. Proteins from vegetable sources are generally lacking one or two essential amino acids. Thus, someone who desires to get their protein from vegetable sources will need to consume a variety of vegetables, fruits, grains, and legumes to ensure consumption of all essential amino acids. They can also add a protein supplement to enrich their diet.